The new Samsung patent discovered by GeekLatest is called "STRETCHABLE BATTERY AND METHOD OF MANUFACTURING THE SAME" and it was published by USPTO on 29th November.
Summary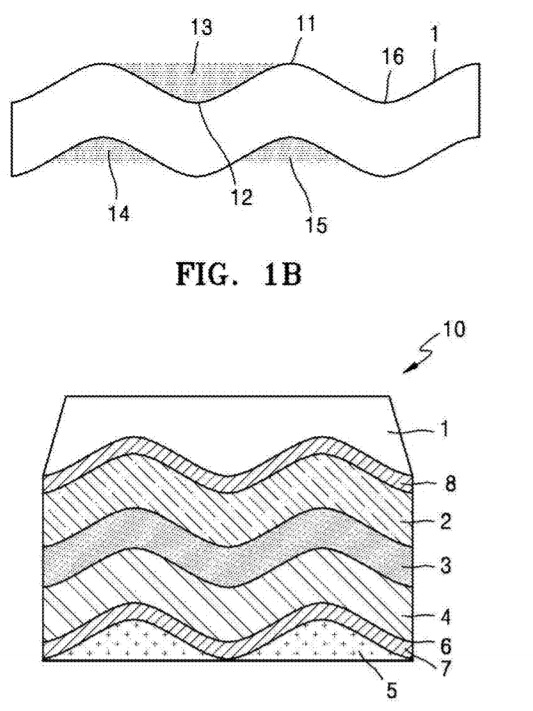 Provided is a stretchable battery including a pouch, into which a metal barrier is inserted, and an electrode assembly, both having a wavy shape with peaks and valleys.
Provided are methods of manufacturing the stretchable battery.
Additional aspects will be set forth in part in the description which follows and, in part, will be apparent from the description, or may be learned by practice of the presented embodiments.
According to an aspect, a stretchable battery includes: a pouch; a metal barrier disposed in the pouch; and an electrode assembly disposed in the pouch, wherein the pouch and the electrode assembly each have a wavy shape including peaks and valleys.
According to another aspect, a method of manufacturing a stretchable battery includes: electrospinning a porous composite nanofiber on a support to prepare a separator; disposing the separator between a cathode and an anode; roll-pressing the cathode, the anode, and the separator to manufacture an electrode assembly; disposing the electrode assembly in a pouch including a metal barrier; sealing the pouch except for an electrolyte injection portion to manufacture a flat battery; placing the flat battery in a mold; and molding the flat battery into a wavy shape having peaks and valleys to manufacture the stretchable battery.
Description
Reference will now be made in detail to embodiments, examples of which are illustrated in the accompanying drawings, wherein like reference numerals refer to like elements throughout. In this regard, the present embodiments may have different forms and should not be construed as being limited to the descriptions set forth herein. Accordingly, the embodiments are merely described below, by referring to the figures, to explain aspects. As used herein, the term "and/or" includes any and all combinations of one or more of the associated listed items. "Or" means "and/or." Expressions such as "at least one of," when preceding a list of elements, modify the entire list of elements and do not modify the individual elements of the list.