On November 10, Microsoft started forcing Windows 10 KB4586781 to users operating the October 2020 Update and May 2020 Update. Following the release of November 2020 cumulative update, users are now starting to report Windows 10 KB4586781 issues.
Earlier this month, Microsoft stated that it is aware of an issue that causes certificate loss (web and app browsing problem) when Windows Updates are installed using physical media. Unfortunately, it looks like even more issues are now striking Windows 10 users.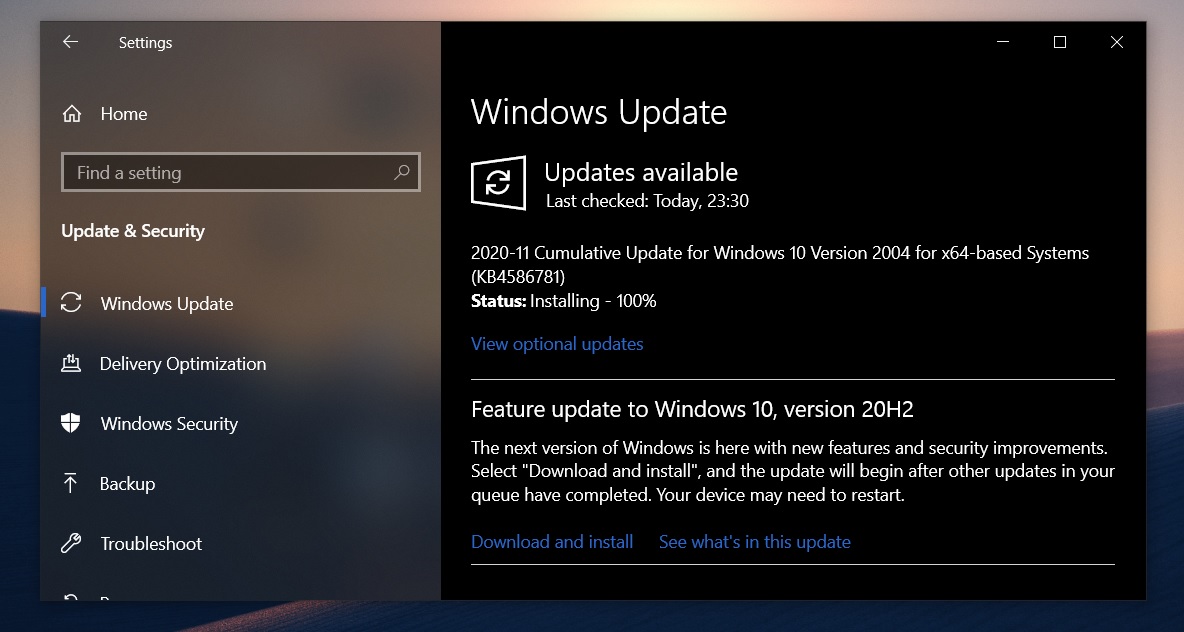 In the changelog of KB4586781, Microsoft said that the update is plagued with only one issue with IME management tools, but the patch appears to be causing a series of nasty problems for some customers.
Windows 10 KB4586781 problems
List of known issues in Windows 10 KB4586781:
Update installation fails to gets stuck at download screen.
Blue Screen of Death or system failure.
Some apps are scuppered by the update, which means you won't be able to launch Chrome or Edge.
Windows 10 takes longer than usual to boot after the update.
Some apps are unable to remember the last login credentials.
Microsoft Input Method Editor (IME) crashes.
Windows certificate loss.
Traditionally, these updates allow users to patch potential security issues in their operating system. But in this case, installing Windows 10 November update could impair the functionality of basic Windows operations, such as boot time, File Explorer, etc.
Windows 10 Build 19042.630 was released only a few days ago to fix more than one hundred security issues, including one bug discovered by Google engineers. It seems to have fixed the security problems that were plaguing Windows 10 recently, but it looks like File Explorer continues to have issues.
Historically, Windows 10's monthly updates only introduce new problems and the tech giant has had a tribble run of botched updates recently.
After applying Windows 10 Build 19042.630, Microsoft says users will notice the following improvements:
Office apps with better security, but it's unclear how Microsoft made its productivity suite more security.
Microsoft says it can now allow Windows to do daily operations more securely. Again, we don't know the technical details of the changes.
It also fixes deadlock in the network adapter, which caused potential security issues.